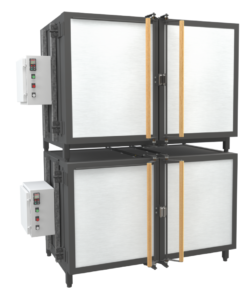 Annealing ovens come in two styles – front loading and top loading. Front loading annealers are popular for their ability to be more spatially efficient because it is easy to use shelves inside and to stack one oven on top of another as shown above. Top loaders are best used for operations where the user knocks a piece off the pipe or punty directly into the oven.
Our ovens are lined with insulating firebrick that is backed by ceramic fiberboard making them efficient, durable components of your studio. Elements are recessed into slots cut into the brick wall, and door limit switches de-energize heating elements when doors are open to protect the user from any electrical hazard. Levelers are standard on annealers. Annealer Spec Sheets
Click here for Control Panel information.
Front Loading Annealers
| | | | | |
| --- | --- | --- | --- | --- |
| Model | Interior Dimension | Power | Doors | Prices |
| AF9.9 | 31″w x 24.5″d x 22.5″h | 8.65 kW | 2-hinged | $7,030.00 |
| AF9.9-2 | 31″w x 24.5″d x 22.5″h ea | 8.65 kW ea | 2-hinged ea | $13,300.00 |
| AF16.1 | 35.5″w x 29″d x 27″h | 11.52 kW | 2-hinged | $8,145.00 |
| AF16.1-2 Stack | 35.5″w x 29″d x 27″h ea | 11.52 kW ea | 2-hinged ea | $15,100.00 |
| AF17.7 | 58"w x 24"d x 22.5"h | 17.29 kW | 2-hinged | $8,307.00 |
| AF17.7-2 Stack | 58"w x 24"d x 22.5"h ea | 17.29 kW ea | 2-hinged ea | $15,780.00 |
| AF24.2 | 53.5″w x 29″d x 27″h | 16.60 kW | 2-hinged | $9,380.00 |
| AF24.2-2 Stack | 53.5″w x 29″d x 27″h ea | 16.60 kW ea | 2-hinged ea | $17,562.00 |
| AF28.3 | 53.3″w x 29″d x 31.5″h | 16.60 kW | 2-hinged | $10,660.00 |
| AF28.3-2 Stack | 53.3″w x 29″d x 31.5″h ea | 16.60 kW ea | 2-hinged ea | $18,680.00 |
| AF36 | 70″w x 33.5″d x 27″h |  20.2 kW | 2-bi-fold, hinged | 14,340.00 |
| AF36-2 Stack | 70″w x 33.5″d x 27″h ea |  20.2 kW ea | 2-bi-fold, hinged ea | $26,590.00 |
| AF47.5 | 90″w x 33.5″d x 27″h | 28.82 kW | 4-hinged | $16,651.00 |
| AF47.5-2 Stack | 90″w x 33.5″d x 27″h ea | 28.82 kW | 4-hinged ea | Call for pricing |
| AF75 | 93.5″w x 38″d x 36″h | 34.58 kW | 4-hinged | $20,005.00 |
| AF75-2 Stack | 93.5″w x 38″d x 36″h ea | 34.58 kW | 4-hinged ea | Call for pricing |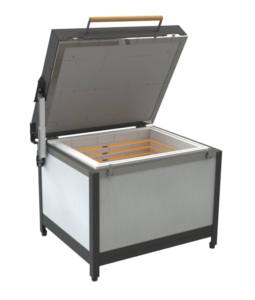 Top Loading Annealers
| | | | | |
| --- | --- | --- | --- | --- |
| Model | Interior Dimension | Power | Doors | Price |
| AT11.4 | 35.5″w x 26.5″d x 21″h | 8.65 kW | 1- spring assist | $6,100.00 |
| AT17.4 | 44.5″w x 26.5″d x 25.5″h | 11.52 kW | 1- spring assist | $8,894.00 |
| AT20.9 | 53.5"w x 26.5"d x 25.5"h | 17.29 kW | 2- spring assist | $9,001.00 |
| AT24.4 | 62.5″w x 26.5″d x 25″h | 16.60 kW | 2- spring assist | $9,354.00 |