Fusing and Slumping Ovens
Our fusing/slumping ovens are the result of many hours of design refinement to bring the finest features to your studio.
The rigid clamshell lid is well insulated and features an integral air gap to keep external surface temperatures down.  Numerous peep sights double as adjustable vents to allow for process monitoring as well as quicker cool down rates.  Lifting is easy thanks to gas spring assistance.
Generously insulated with ceramic fiber modules and heated with wire elements encased in quartz tubing, these kilns will perform beautifully to heat work quickly and evenly. 
Large sizes will benefit from multiple zone control, to keep temperatures even across the length of the bed.  Control Panels are usually mounted away from the oven, rather than on the oven due to the low height of the base.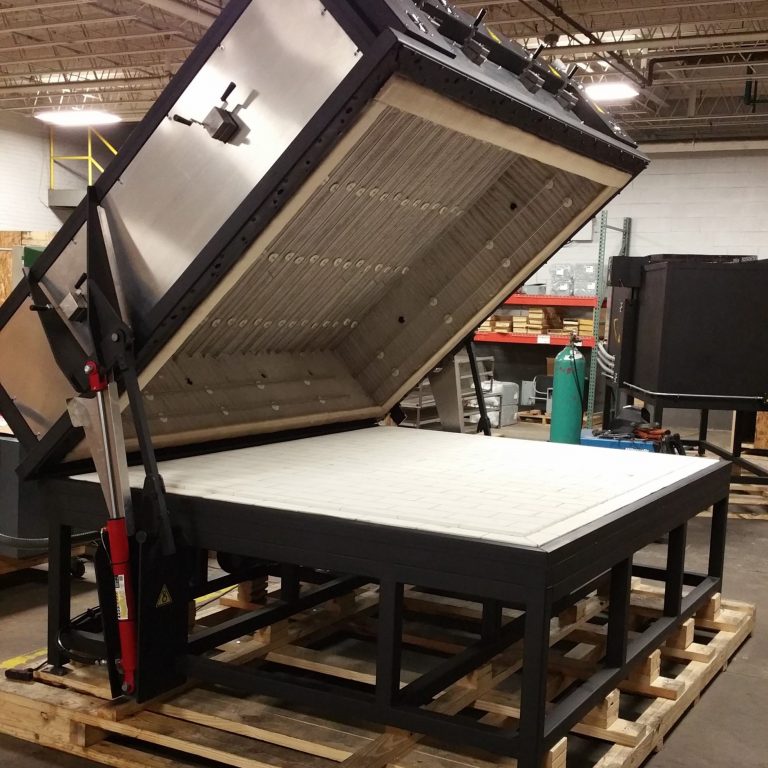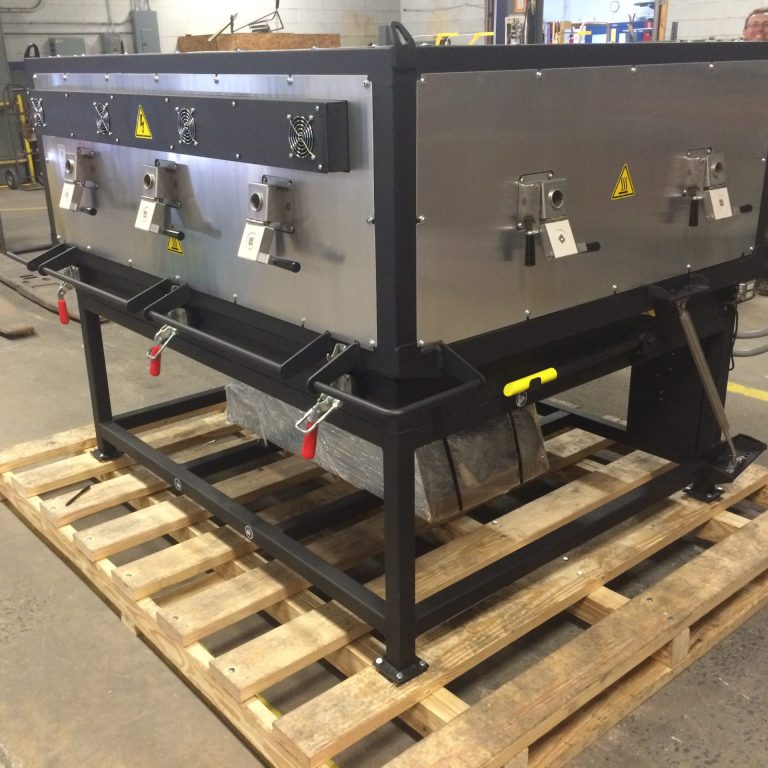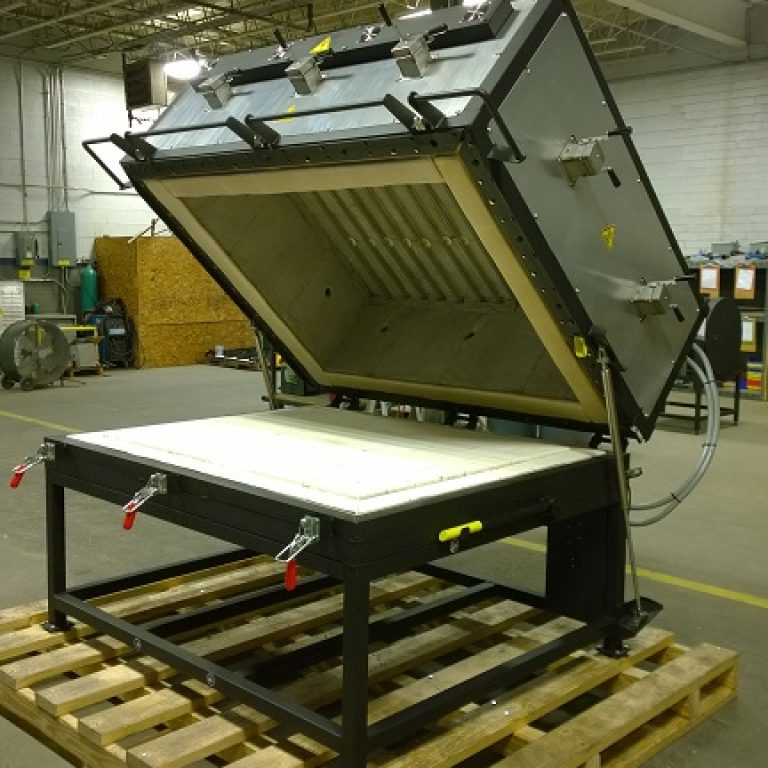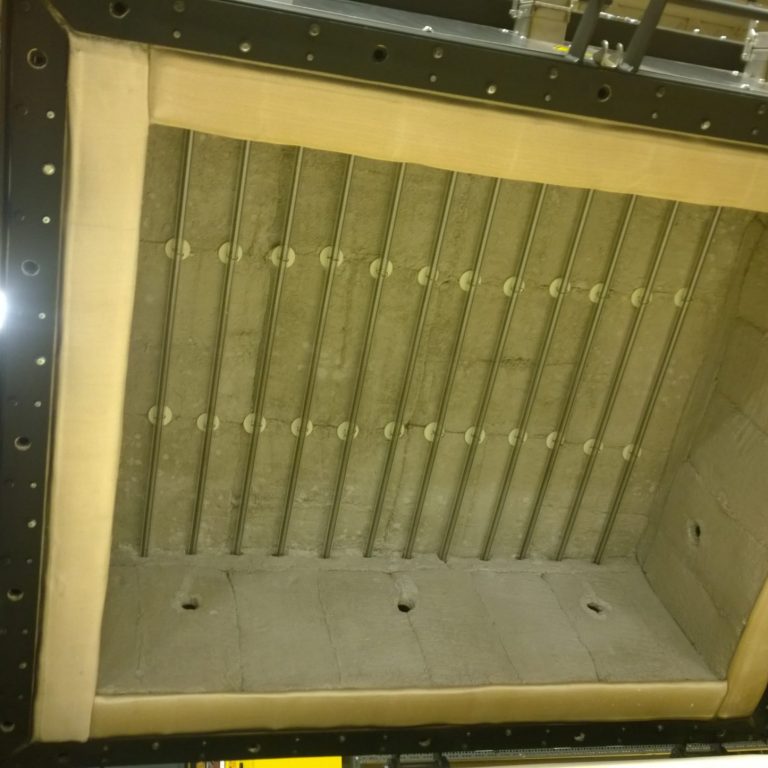 F4T Touchscreen Controller
This touchscreen temperature controller replaces the standard Watlow PM many of us are familiar with. Featuring expanded profiles, easy to navigate menus, full words, some customization, and language options.
Perfect for large ovens and delicate work. Elements are controlled in sections from top to bottom or side to side, each with a dedicated thermocouple allowing for more even temperatures throughout the space. An F4T controller is included and required in this price. Depending on size and layout of oven, price will increase accordingly.
OnSite Remote Connectivity
This product allows you to access the controller remotely with an easy to use interface. Connect via Local WiFi with just a few clicks, or use the secure VNC to access the controller through the internet. You can receive programmable alarms through email and text, track profiles with data logging, and write complex profiles from any phone, tablet, or PC.
Compatible with the Watlow PM controllers that come standard on all ovens, and with the F4T controller.
This replaces the standard gas spring assisted lid with push button hydraulic pistons.  A must for the largest Fuse ovens, but a great addition to any Fusing oven.
Prices below are for complete assemblies that are TUV certified and tested. This includes the oven body, control and heating system(s), and thermocouple(s).  These prices are a best estimate and may change.  Please contact us to request a current quote with desired options and customization.
Spec sheets can be viewed at the link below. Some spec sheets are outdated, but weights and dimensions have stayed consistent over the years.  Contact us for updated versions when needed.
| Product Name | Heat Output (kW ) | Interior Dimensions | Price (USD) |
| --- | --- | --- | --- |
| FUSE271812 | 6.6  | 27″w x 18″d x 12″h | N/A |
| FUSE303018 | 11.5  | 30″w x 30″d x 18″h | $13,570 |
| FUSE603612 | 17.3 | 60"w x 36"d x 12"h | $19,896 |
| FUSE544218 | 20.2 | 54″w x 42″d x 18″h | $20,197 |
| FUSE967218 | 47.7 | 96″w x 72″d x 18″h | $42,182 |