Hot Shop Furniture, Tools and Accessories
These benches featured a curved "thigh bar" and aluminum heat shield to allow for longer reach and protection from heat. A tool bar on the back of the bench provides a hanging place for tongs, tweezers and more. The legs have leveling bolts for uneven floors.
An unattached 24″x18″ tool table allows flexibility for each user.
Work in comfort with an optional padded leather seat. Benches can be made right (standard) or left handed, and we have an ambidextrous model as well.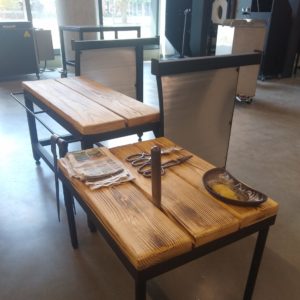 | Product Name | Price (USD) |
| --- | --- |
| BSTAN | $1,695 |
| BSTAN Leather | $1,940 |
| BSTAN Ambidextrous | $2,400 |
Two layered construction of steel and aluminum with an air gap between layers to shield you from heat. Shade 5 glass protects your vision and the viewing window swings into position or can be moved out of viewing area.
All four casters swivel to allow a full range of movement, and a 3/8″ thick bottom plate of steel provides rigidity and makes the heat shield bottom heavy to prevent tipping.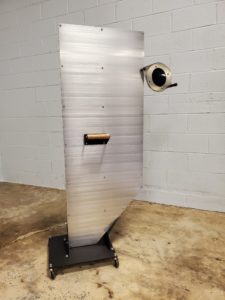 | Product Name | Dimensions | Price (USD) |
| --- | --- | --- |
| HS1 | 23" Wide | $1,188 |
| HS2 | 37" Wide | $1,281 |
Keep crack-offs from flying across the room. Drawer at the bottom is removable for easy cleaning. A 16″ removable arm provides a quick storage solution for pipes and punties.
Choose plasma cut lettering for easy recognition, "Clear" "Color" or leave it blank.
Also available with casters for more mobility in flexible shops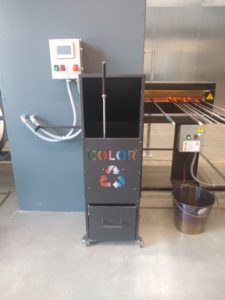 | Product Name | Dimensions | Price (USD) |
| --- | --- | --- |
| COB | 16" Wide | $1,346 |
Yokes allow for better ergonomics while working at a glory hole, and rolling yokes improve on that. All yokes feature adjustable height, swiveling yoke head, and transfer bearings in the yoke head for easy movement.
Standard Yokes (SY) are built on a tripod for stability.
Our Rolling Yoke 1 (RY1) is built for most users, but for those dealing with large glory holes and significant weight we have our beefier RY2. Both feature adjustable height, v-groove rollers, swiveling yoke head, and transfer bearings for easy movement.
The yokes position on the base can be slid forward and back for flexibility between users and spaces.
An attached heat shield for more protection, though less flexibility is an optional addition.
Tracks can be made in any length to accommodate shop layout, normal length is 5′.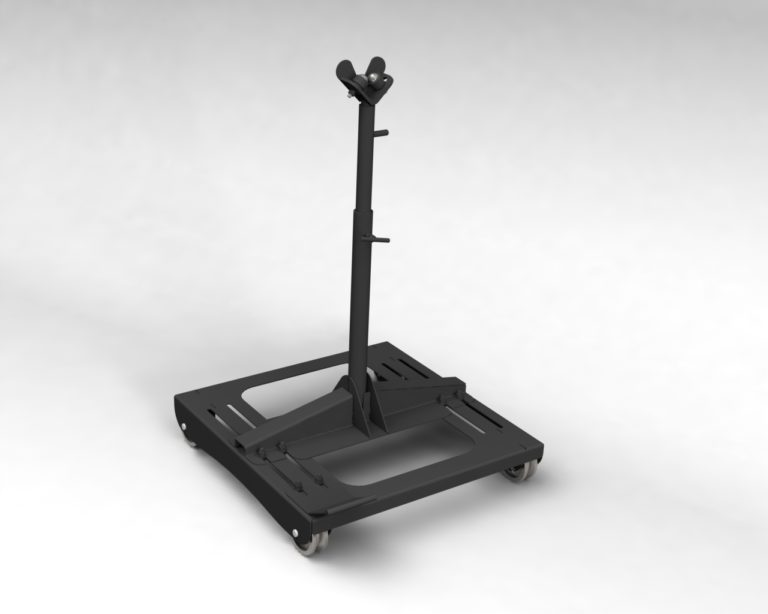 | Product Name | Price (USD) |
| --- | --- |
| Standard Yoke | $471 |
| Rolling Yoke 1 | $864 |
| Rolling Yoke2 | $926 |
| 5' Tracks | $104 |
Our marvers feature a blanchard ground steel top, 5/8″ thick. This allows for supreme rigidity and flatness, and gives plenty of material for refinishing in the future. Heavy duty swivel locking casters allow the marver to be moved and locked in place as needed.
Options included custom sizes to meet your needs, storage shelves or drawers, and a full stainless top for unsurpassed durability and corrosion resistance.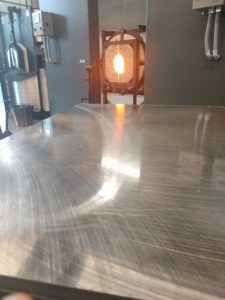 | Product Name | Dimensions | Price (USD) |
| --- | --- | --- |
| M2030 | 20"x30" Top | $2,370 |
| M2436 | 24"x36" Top | $3,154 |
A knock off table is the perfect addition to any studio, and allows a more streamlined operation for teams and those working alone.
A 24″ x 24″ top is lined with fiber padding and high temp fabric with a wooden rim to prevent glass from rolling off. The yoke adjust as high as 19″ from the table for the perfect fit.
Options include an expanded metal shelf below the table and extra yokes to access the table from any side.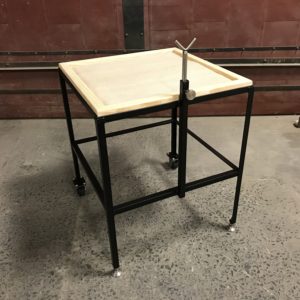 | | | |
| --- | --- | --- |
| Product Name | Dimensions | Price (USD) |
Pipe coolers hold a tank of water and use a foot activated pump to cool down the middle of pipes.  It uses a car battery or deep cycle marine battery, and is equipped with casters and a drain valve for easy movement and cleaning.
Torch holders feature an adjustable height pronged holder that works for most types of torches.  Available with a tripod stand or as a rolling stand designed to also hold a standard grill propane tank.
Pipe racks are available in several widths and are divided into 8″ sections to help organize pipes and punties.
Powder Boxes feature and adjustable yoke, 5 micron outer and 1 micron inner filters, foot pedal activation and swiveling casters with brakes.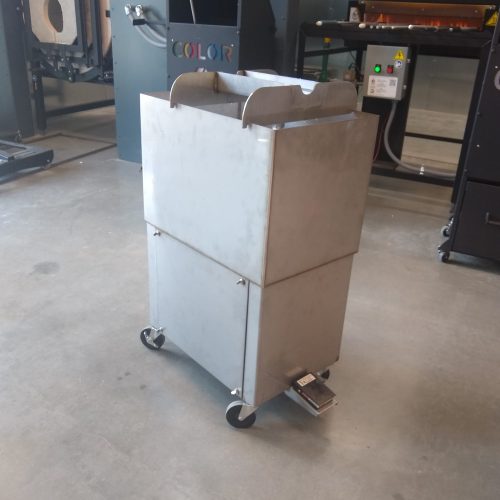 | | | |
| --- | --- | --- |
| Product Name | Dimensions | Price (USD) |
Charging chutes make adding batch or cullet to a furnace easy.  Designed for 50 lb's of batch and made of mild steel.  Sizing can be customized to fit your furnace, and material can be changed to stainless steel to minimize possible contamination due to rust.
Ladles come with a 43″ T-handle. Double thick collar is triplepass welded to the cup for durability.
Rake's allow bubbles or debris to be pushed to the back of the furnace, or pushed together to be pulled out so they don't interfere with a gather. Stainless rake with steel handle.
| | | |
| --- | --- | --- |
| Product Name | Dimensions | Price (USD) |