Our glory holes are designed with ease of operations and maintenance in mind. The result is a very efficient, durable machine that will give you years of service.
Heat retention rings are made in four pieces, tofacilitate easy change-outs. The lining is 2800F insulated fire bricks, staggered and mortared for structure, and the 2" ceramic fiber backup insulation is packed dry to give high insulating value.
Our glory holes are approximately 1.6 times as deep as their inside diameter, which provides an ideal heat range throughout the glory hole and gives lots of room for tall pieces and deep reheats. The center height is adjustable from 34" to 36", the most ergonomic height range for lifting and turning. Glory holes are built standard with our unique round burners, as quiet as ribbon burners.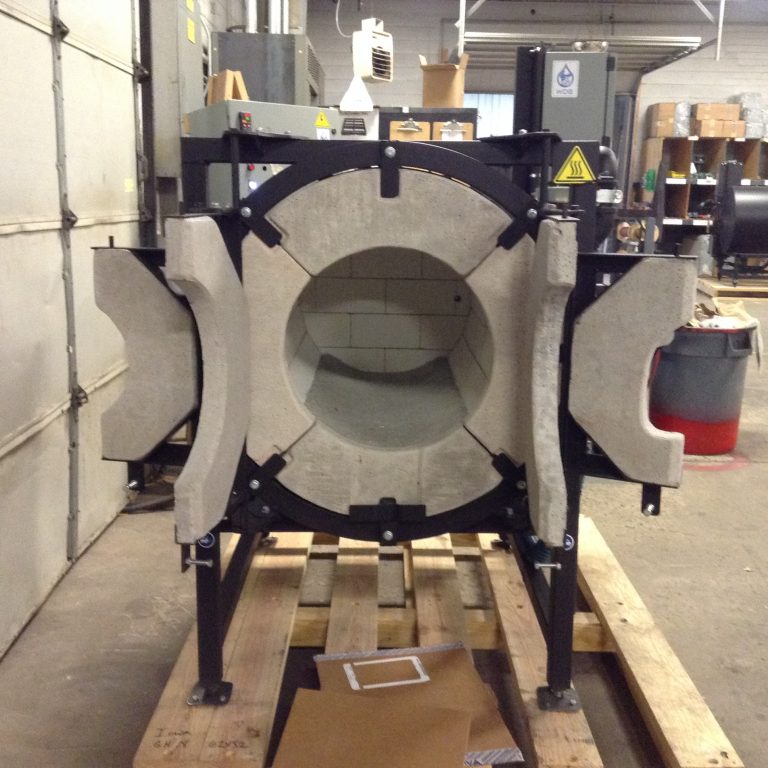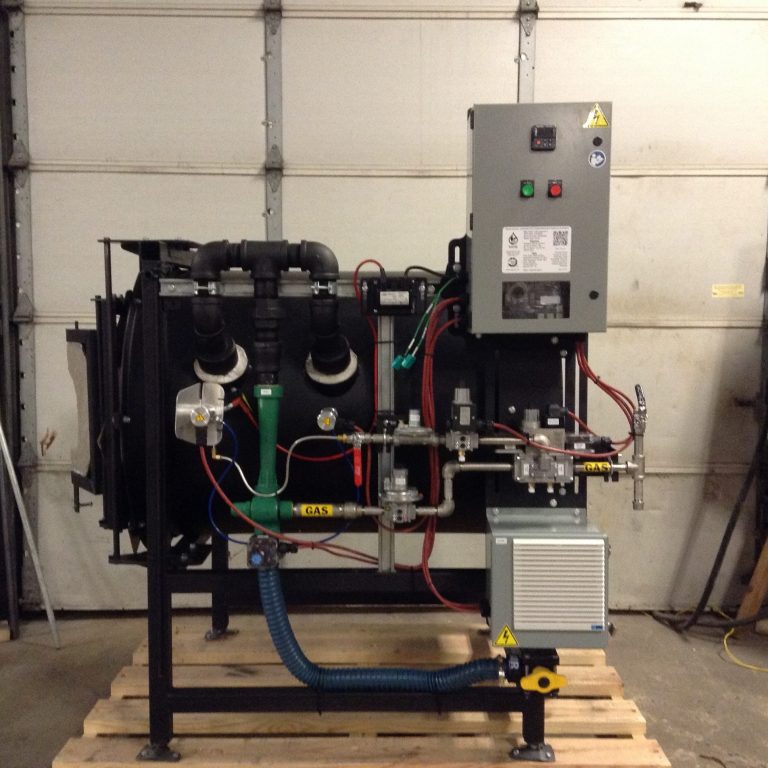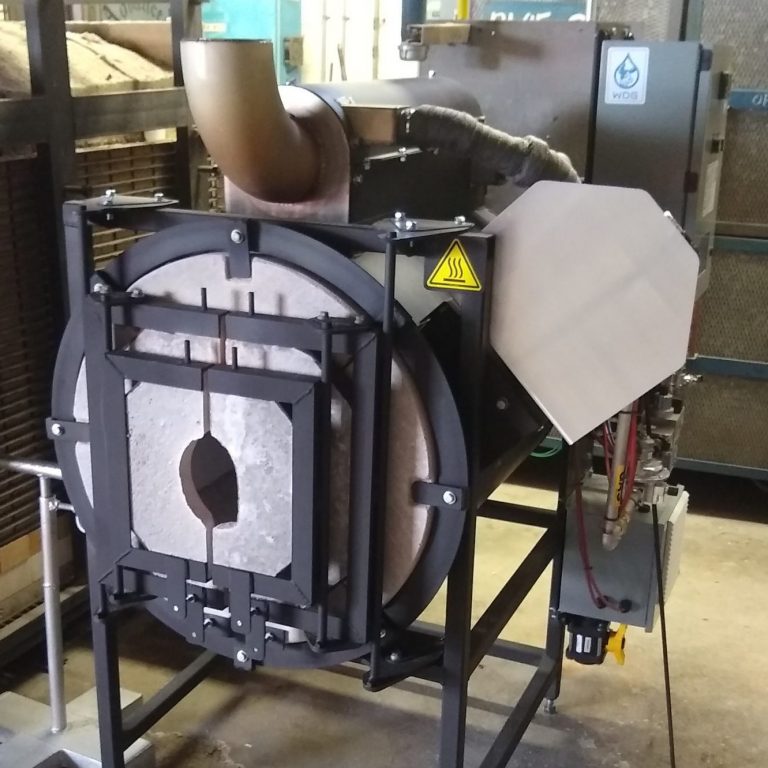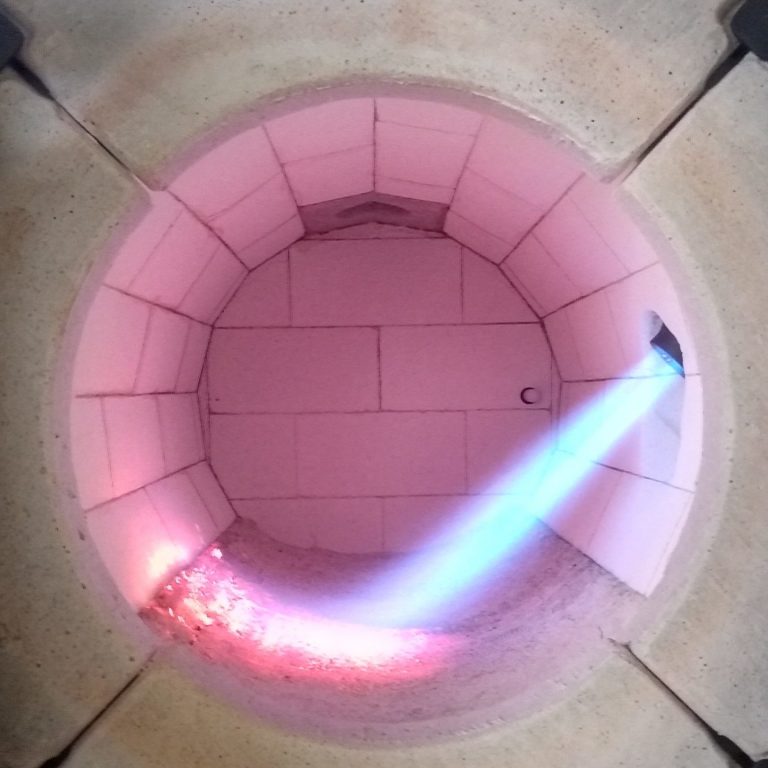 Add extra gas into the mix with a foot pedal. The amount of gas is adjustable with a needle valve for fine tuning, and is injected after the mixer so you're guaranteed a smoky atmosphere even at high fire.
This modification replaces the proportional mixer and burner system with a Thermjet nozzle-mix burner system usually found on our furnaces. This allows for a recuperator to provide hot air for combustion, increasing efficiency. This system includes self ignition.  Gas usage is decreased ~20% during an 8 hour period.
Contact us for pricing and details.
Hit the on button, and this addition allows the glory hole to light itself. A spark plug lights a small pilot burner, which in turn lights the main burner. The pilot turns off when the main flame is lit, saving wear on the spark plug.
With doors on either end, this hole allows a second person to be working from the same hole. For some studios this can be a great feature to save on space and get more out of your equipment.
Contact us for pricing and details.
Prices below are for complete assemblies that are TUV certified and tested. This includes the glory hole body, control and heating system(s), and thermocouple(s).  These prices are a best estimate and may change.  Please contact us to request a current quote with desired options and customization.
Spec sheets can be viewed at the link below. Some spec sheets are outdated, but weights and dimensions have stayed consistent over the years.  Contact us for updated versions when needed.
| Product Name | Heat Output (BTU/hr) | Doors(s) | Burner(s) | Price (USD) |
| --- | --- | --- | --- | --- |
| GH9 | 75000 | 1 pair | 1 Small | $14,566 |
| GH12 | 145000 | 1 pair | 1 Small | $15,088 |
| GH15/16 | 225000 | 2 pairs | 1 Large | $16,722 |
| GH18 | 300000 | 2 pairs | 2 Small | $17,214 |
| GH21 | 350000 | 2 pairs | 2 Large | $18,355 |
| GH24 | 475000 | 3 pairs | 2 Large | $21,769 |
| GH27 | 600000 | 3 pairs | 2 X-Large | $24,408 |
| GH30 | 750000 | 3 pairs | 4 X-Large | Call for pricing |