For those of you building a studio from scratch, or doing a redesign, we're here to help. Wet Dog Glass offers services for studio design and layout, including CAD floor plans, electric and gas needs, ventilation systems, and more. Please contact us for more details.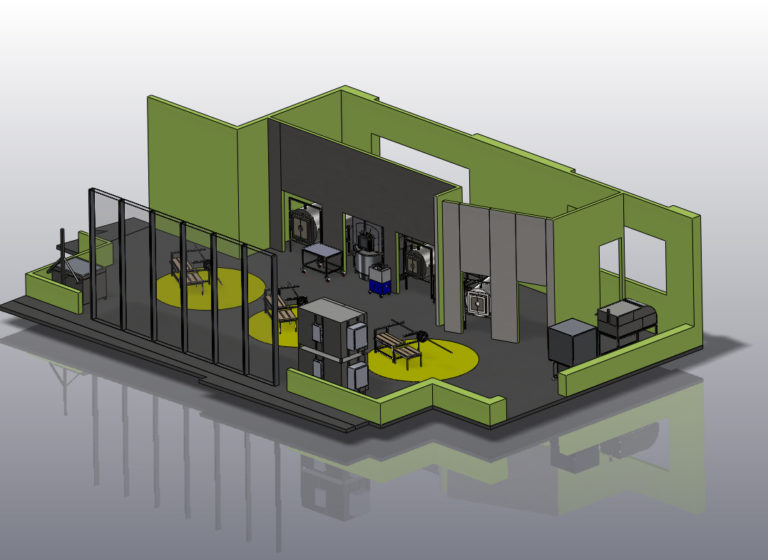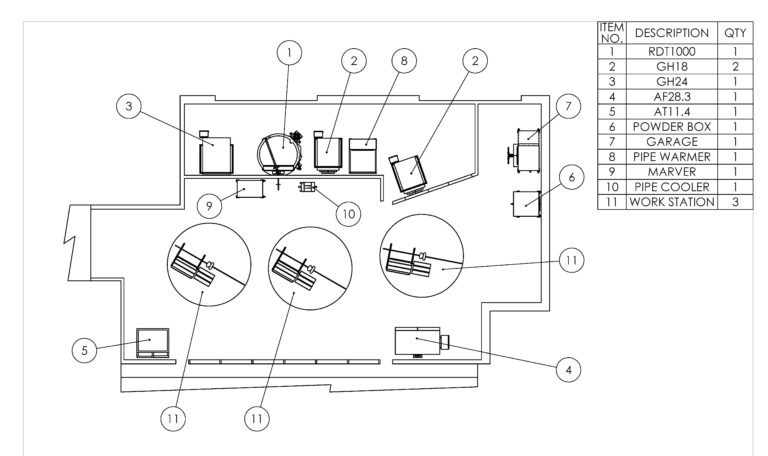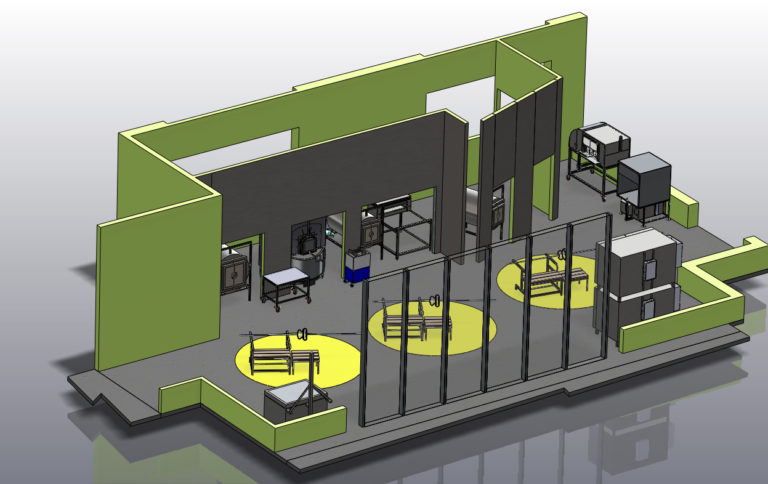 A glass studio is a workspace designed and arranged to produce hand-blown, hand-sculpted, ladle cast, kiln cast, fused, flame-worked, cut, ground, polished, glued, enameled, painted, etched, bombarded and stained glass. These processes are not mutually exclusive and are often combined. Items can range from one-off unique art pieces to production line items and/or anything in between. Most glass craftspeople tend to call a hot glass studio a "hot shop". There are also "warm glass studios" or "kiln shops" in which fusing, slumping and bending processes are performed.
In a "cold shop" there are machines such as lapidary wheels, belt sanders, and lathes for cutting, grinding, engraving, faceting and finishing glass pieces. Our primary focus has been on hot shops, and each year we have added a product or two that support other studios. We frequently supply entire facilities to support the complete range of glass working techniques by working with other vendors who we feel offer high quality products and services. Hot shops come in many shapes and sizes. Different shops serve different purposes. For example, a small hot shop might be used by a single craftsperson to produce ornaments, paperweights, stemware or other small items. The space and equipment required would be minimal compared to a larger studio where sales volume is high enough to require 3 or 4 craftspeople to work full time.
Some hot glass businesses employ 20 people or more and require shipping and receiving areas, larger storage areas for raw and finished materials, as well as more equipment. Many studios function solely as educational facilities where 80 or more students might use the facility for as little as 3 hours per week. Some studios exist only to produce glasses of different colors to be sold as raw materials in the form of cullet rods, sheets, or frit for other studios to use in their processes. Several museums have hot glass studios for the education of the general public, where professionals perform demonstrations hourly. Each year more studios are built with the objective of renting studio time to enthusiasts and professionals who are starting or already running their own small businesses, but who either are not financially prepared to or simple not interested in owning their own glass studio.
It is important that the proprietor have a clear idea of the function of the studio so that space, equipment, and layout decisions can all be made appropriately. A typical hot glass studio has a communal furnace that melts raw material so that it can be gathered, ladled or poured to make the final product. Normally the studio will have one or more glory holes for reheating and one or more annealing oven to prevent the glass from developing and/or to relieve it from stress or thermal shock as it cools down to room temperature.
The typical glass studio will have a least one bench per glory hole, along with a yoke to support the weight of the pipe while reheating in the glory hole. Heat shields keep the glass blower from receiving the brunt of the heat from the glory hole, and generally make the job more comfortable. Most hot glass studios also have cold shops used for surface decoration or finish work. There are many more accessories that you will find in our catalog along with the description of the function of each. As fuel costs rise, more emphasis is put on efficiency. Efficiency is a philosophy. It is a problem with countless solutions. Efficiency involves not only the equipment selected, but the use of the equipment and space by the operator. We try to do our part by both developing and offering new products and by education our customers, encouraging you to be actively aware of the issue. Look for items such as variable speed blowers, heat exchangers (recuperators) and double glory holes. The more equipment a studio needs to fulfill its function, the more space it needs. A properly selected studio space will have appropriate gas and electric volume availability, appropriate ventilation, storage space, cold shop space, drainage and zoning. As you read through the pages of our catalog, you will find many helpful, clarifying notes that will give you a thorough understanding of what is involved in the development and operation of a glass studio.