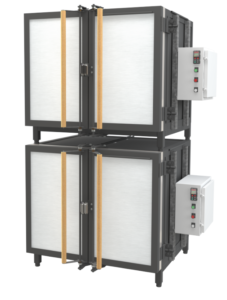 For kiln casting ovens, we use stainless steel in the lip around the opening, build a 100% fiber blanket lid with ceramic shell hot face, and provide more power to reach higher temperatures quickly. Top loaders lend themselves to kiln casting because it is easier to charge molds from the top than the front.
Our ovens are lined with insulating firebrick that is backed by ceramic fiberboard making them efficient, durable components of your studio. Elements are recessed into slots cut into the brick wall, and door limit switches de-energize heating elements when doors are open to protect the user from any electrical hazard. Levelers are standard on casting ovens. Casting Oven Spec Sheets
Click here for control panel information.
Casting Front Loaders
| | | | | |
| --- | --- | --- | --- | --- |
| Model | Interior Dimension | Power | Doors | Price |
| CKF5.5 | 18"w x 24"d x 20"h | 6.65 kW | 1-hinged | $5,686.00 |
| CKF9.9 | 31″w x 24.5″d x 22.5″h | 11.52 kW | 2-hinged | $7,260.00 |
| CKF9.9-2 | 31″w x 24.5″d x 22.5″h ea | 11.52 kW ea | 2-hinged ea | $13,760.00 |
| CKF16.1 | 35.5″w x 29″d x 27″h | 14.40 kW | 2-hinged | $8,410.00 |
| CKF16.1-2 Stack | 35.5″w x 29″d x 27″h ea | 14.40 kW ea | 2-hinged ea | $15,630.00 |
| CKF17.7 | 58"w x 24"d x 22.5"h | 14.40 kW | 2-hinged | $8,593.00 |
| CKF17.7-2 Stack | 58"w x 24"d x 22.5"h ea | 14.40 kW ea | 2-hinged ea | $15,932.00 |
| CKF24.2 | 53.5″w x 29″d x 27″h | 20.17 kW | 2-hinged | $9,350.00 |
| CKF24.2-2 Stack | 53.5″w x 29″d x 27″h ea | 20.17 kW ea | 2-hinged ea | $17,700.00 |
| CKF28.3 | 53.3″w x 29″d x 31.5″h | 20.17 kW | 2-hinged | $11,280.00 |
| CKF28.3-2 Stack | 53.3″w x 29″d x 31.5″h ea | 20.17 kW ea | 2-hinged ea | $19,645.00 |
| CKF36 | 70″w x 33.5″d x 27″h | 25 kW | 2-bi-fold, hinged | $15,070.00 |
| CKF36-2 Stack | 70″w x 33.5″d x 27″h ea | 25 kW ea | 2-bi-fold, hinged ea | $28,050.00 |
| CKF75 | 93.5″w x 38″d x 36″h | 40 kW | 4-hinged | $18,890.00 |
| CKF75-2 Stack | 93.5″w x 38″d x 36″h ea | 40 kW ea |  4-hinged ea | Call for pricing |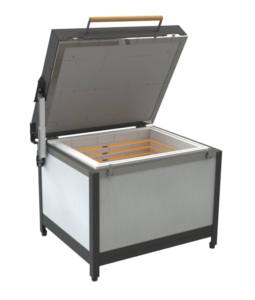 Casting Top Loaders
| | | | | |
| --- | --- | --- | --- | --- |
| Model | Interior Dimension | Power | Doors | Price |
| CKT11.4 | 35.5″w x 26.5″d x 21″h | 11.52 kW | 1- spring assist | $6,100.00 |
| CKT17.4 | 44.5″w x 26.5″d x 25.5″h | 14.40 kW | 1- spring assist | $8,825.00 |
| CKT20.9 | 53.5"w x 26.5"d x 25.5"h | 20.17 kW | 2- spring assist | $9,900.00 |
| CKT24.4 | 62.5″w x 26.5″d x 25″h | 20.17 kW | 2- spring assist | $10,280.00 |